About Perth's
About Terrell Stephen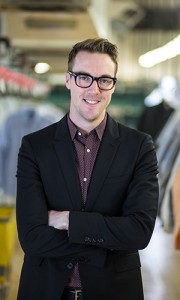 The drycleaning and commercial laundry business has always been a part of Terrell's life. Long before purchasing Perth's in 2012, he was raised in the cleaning industry. His family business, Tower Cleaners of Calgary, Alberta, operates a drycleaning and laundry service and was a formative part of his growing-up years.
Following high school, Terrell obtained a Bachelor of Commerce degree from the University of Calgary. Having worked in many roles at Tower Cleaners up until that point, it was a natural fit for him to take over the running of their Restoration Cleaning Division following the completion of his formal education. As he was a part of all aspects of running Tower Cleaners, Terrell gained the breadth and depth of experience necessary to lead his own company.
The opportunity arose for Terrell to purchase Perth's in 2012 and he quickly began the process of purchasing the business and moving from Calgary to Winnipeg. He became a Winnipegger in the fall of 2012 and has not looked back. Terrell is happy to continue the tradition of Perth's being a locally owned and operated company. He is proud to be at the helm as Perth's is poised to enter its second century in drycleaning and commercial laundry.
Our History
Perth's was founded in Winnipeg over 100 years ago!
Nathan Portnoy, a Russian immigrant, started at Fort Garry Cleaners and Tailors, circa 1914. After returning from service in WWI, he started Portnoy Brothers Cleaners.
Dry cleaning was just starting to become popular at that time. Until then, when clothing became too badly stained to wear, most people dyed it a darker colour. The practice was so widespread that major dyeing companies usually offered a range of mail order services to overseas accounts.
Pollards of Perth, Scotland, was a successful dyeing company that dealt widely in Canada; due to the large number of Scottish immigrants and descendants living in Manitoba, Pollards became particularly successful in this province.
Nathan Portnoy borrowed the name of Pollards' hometown and renamed his company Perth Dye Works, which we know today as Perth's.
Over the years there were a number of mergers and acquisitions. Nathan's son, Iser, took over the business in 1953. In the late 1980s, the company was sold to an executive group. In 1992, Stewart Leibl, who was general manager of Sunshine Uniform, a subsidiary of Perth's, became its principal owner and president. In September 2012, Leibl sold the Company to Terrell Stephen of The Stephen Group Inc. who continues to operate the business as Perth's.
In 2001, Perth's acquired Quinton's Dry Cleaners. There are now 16 Perth's retail locations in Winnipeg, including a 35,000 square foot plant. Today Perth's employs 90 people – many have been with us for more than 20 years.
Proud Community Support
We are a proud participant in the United Way's Koats for Kids program, collecting more than 5,000 donated coats and parkas that are distributed to children in need each year.
Our community involvement also includes working with neighbourhood food banks, the Pass It Forward Hockey Equipment Program, Gowns for Grads, Dress for Success, Agape Table Hustle for Hunger, ALS Society  Walk for ALS, Crohn's and Colitis Canada – All that Glitters Gala, Rotary Club of Winnipeg, The Children's Hospital Foundation Teddy Bear Picnic, and support of the Manitoba Marathon and various arts throughout Winnipeg, including the Royal Winnipeg Ballet and Folklorama.
Professional Affiliations